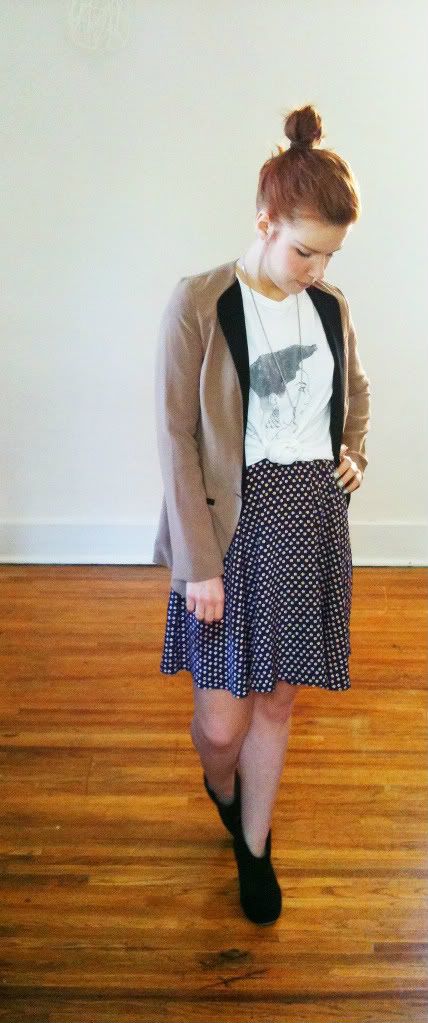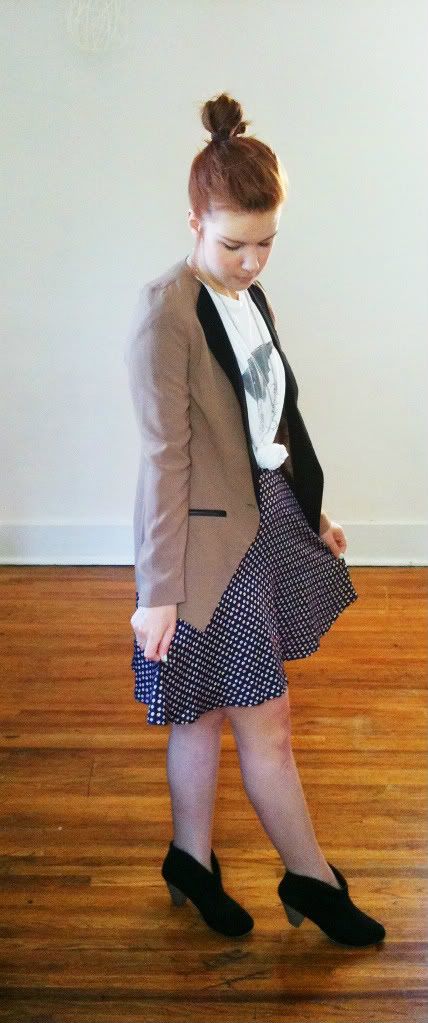 I was really excited about this outfit...until I walked out the door. This dress may look sweet and innocent (found it for $6 at Target!) but it is the MOST static-cling-prone garment I have ever worn. I spent the entire day multitasking: clutching the hem so as not to expose my panties in the wind and peeling it from my crotchal (freshly-coined term: you're welcome) and behind regions as I walked. If you happened to be walking toward me or behind me on Monday, I'm pretty sure you now have an exact replica of the form of my lower half burned into your brain. My apologies. That said, I'm going to invest in some of that static disappear-y magic-y stuff and see how that plays out. You're biting your nails in anticipation, right?
I got this blazer during the winter months because I had several "business attire" events to attend at school, and for future job interviews as well. I know some people will disagree with me, but I really do think every girl should have a blazer. They're so multi-purpose.
Please congratulate me for successfully and smoothly transitioning this t-shirt from Matt's closet to mine. We've never been sure if this was intentional by the artist or not, but the drawing features the lovely
Grace Jones
(we think?) and has been adored by me ever since I laid eyes on it. Welcome to your new, tightly packed home, Grace Jones t-shirt. We're glad to have you.
Stay tuned for some muffins I'm baking later today! I'm improvising some of the ingredients, so we'll see if they turn out or not. Happy Wednesday!