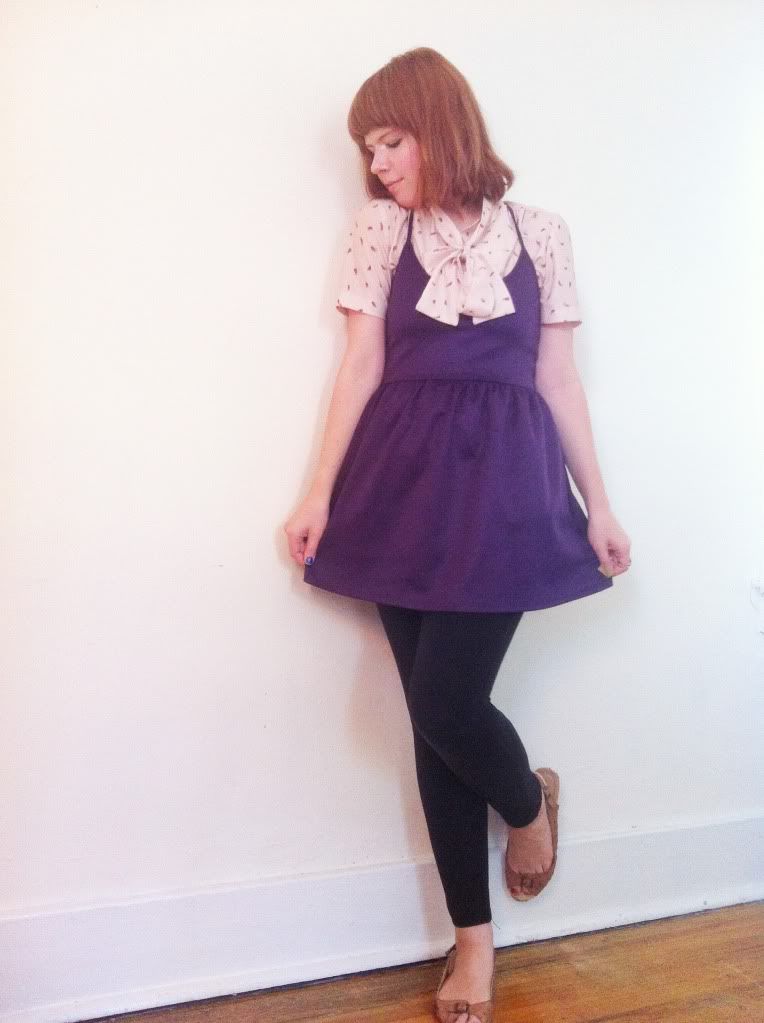 Dress (Underneath): Vintage
Purple Dress: UO a couple years ago
Leggings: Walmart? : /
Sandals: Kimchi Blue
Photo quality...ugh. Don't even get me started. I sincerely apologize, and I assure you I am doing everything possible to fix this ASAP. Anyway...
Thank you for all your words of encouragement and support in the last post! That means more than I can say, and I'm already feeling a bit better! I can't wait to show y'all my new sandals when they arrive! : )
I fooled you guys yet again! This time, instead of a skirt over a dress, it's a dress over a dress! I know, I'm crazy! I scored this baby at a local vintage shop and instantly fell in love with a)the price b)the ascot and c)the opposite print on the lower half (which you'll see eventually). Just couldn't pass it up!
I don't think I would've worn leggings underneath if I didn't have to go to work, but I can't risk the wind grazin' my bum in front of a bunch of 3 year olds! Oh, the things they would have to say about that...I can hear it now...little, angelic voices screaming "Leeeaahhh!! I see your buuuutttt!" They're not above it.
Well friends, I'm off to see what the weekend has in store for me! I know for certain that the new Thai place that opened up ONE BLOCK from our apartment (!!!) and swimming are both in order- I'm a happy lady! Love you guys!