**This post is sort of diverting from where and what I was this blog to be, but I'm hoping to turn a new leaf of sorts IRL and in blogging by writing it; so here goes: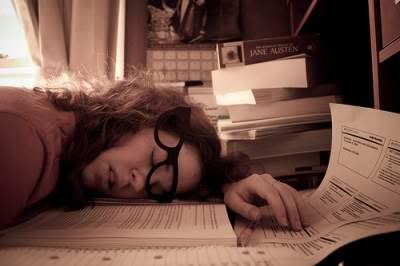 This has been me lately. Sleepy, sure. but more than that, just run-down feeling-constantly. I'm sure it has something to do with the hustle of school, working two jobs, attempting to have a personal, social, and blogging life all at the same time, and a million other things each day, but honestly, I think the majority of my problem is that I'm not taking care of myself.
Typically, I'm an exceptionally healthy eater. But the last few weeks/month, I've gotten off the wagon in a bad way. Yesterday alone I had five chocolate chip cookies! (It's teacher appreciation week and one of my jobs is at a preschool...so...you do the math...). For me, that's a lot of junk. And my giving in to all my cravings is just making me feel tired and icky. When I eat whole foods, I feel much more like myself, not to mention more at peace and satisfied.
Also, I've been almost solely focused on earning money for the new camera I'm planning on purchasing sometime in the near future, but have been neglecting a lot of other things that I may need. To sum this up, I think I'm moving too fast. I'm feeling haggard and worn, when I want to wake up with excitement each day. I'm constantly worried about the next couple of hours: where I need to be, what I need to be doing, how much money I'll be making, etc. It all needs to slow down. Granted, I still need to be making money, but I need to slow my body + brain down, and just relax. I need to do a little self pampering, and I need to remind myself that I'm a human being, not a machine. I need to de-stress and quit worrying/wishing/thinking my life away. I want to put more energy and thought into each thing I do, instead of spreading myself so thin.
To achieve this, I'm going to do the following:
1. Get back on the whole foods train. Quit junk.
2. Take 1-2 days a week off from blogging.
3. Force myself to mentally slow down, and focus on what's in front of me.
4. Try my very best to do something active every day. It's hard when I work 13 hour days,
but even a little youtube yoga would help, I think.
5. Buy myself a new pair of sandals. My other ones are falling apart.
6. Shave my legs. It's been a hot minute...don't judge.
7. Put more creativity and effort into my blog posts...even if that means they have to be
less frequent or shorter. I really want to develop some inspiration.
8. Reinstate my nightly glass of wine : )
9. Breathe.
10. Make more friends.
I realize none of these are earth-shattering, but small changes in day-to-day life are the ones that become permanent. What are some things you guys do to re-energize/re-start yourselves? I'd really love your input!
Thank you so much for reading. It really means a lot. Sorry, I know I say that all the time.
: )
EDIT: I'm also going to clean my house. Because, let's face it, that ish is making me crazy.