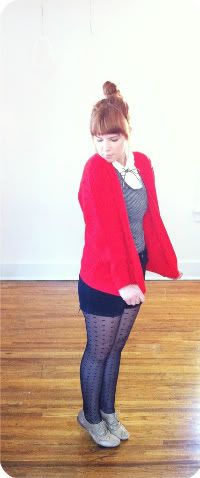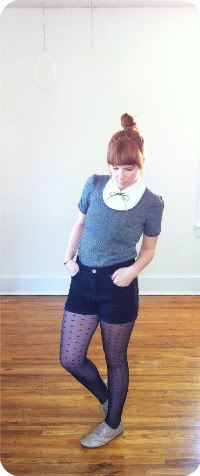 Shirt: Target, a couple of years ago?
White Shirt: Vintage
Shorts: UO
Tights: Target
Shoes: American Shoe (local)
I suspect if a real deal cowboy (has anyone actually met one of those?) approached me, he would be extremely disappointed to see a bolo tie, a staple of his heritage, tied into a bow underneath such a feminine collar. "Quit yer whinin' and teach me how to lasso!" I'd say. Sorry.
I'm not sure y'all needed such a close up view of these brogues....They're in rough shape around the toe, but I love them dearly. I found them on sale last year after my oxfords from UO crapped out (UO shoes falling apart..? I never!) and it's been hot + heavy ever since.
I hope everyone is having a great week! This one seems especially long for me, but it's almost over!