Well friends, I regret to inform you that I have not the time to do the research/photo hunting that the "Your Next BFF" posts require, therefore you shall be sustained with a "Currently..." post; the idea of which has been borrowed from dear, dear
Lydia
.
Here goes:
Obsessing over...
Lil baby blog + muh fitness. Since starting blogging, it's like I've sort of uncovered a passion I didn't know I had..? I'm sorry, I'll wait while you try to keep your breakfast down. I know that sounds super cheesy, but I'm
seriously
loving sharing with everyone and making new friends. It's really great to feel
this
connected to something.
Also, I re-started my running routine yesterday and I'm happy to say I feel like me again! I'm not sure what happened, but I fell off the wagon and forgot how good I feel when I run regularly. Totes getting bikini ready, you guys.
Working On...
Blog, duh! : ) Will be working on in the next 15 minutes: sourcing homework.
Thinking About...
How much I'll miss Matt when he's in Greece this summer for a WHOLE MONTH. Everyone come visit me in June!
Anticipating...
Finals! Ugh, I try not to think about it, which leads me to procrastinating, which makes me more stressed than I was in the first place! Vicious cycle, y'all. Vicious. Cycle.
Listening To...
Matt crack his knuckles. Sorry if anyone's grossed out by that. It's a
bad
habit we both share.
Eating...
Nothing! But my tum is a-growlin'!
Wishing For...
A vacation. I want to run away to some exciting place so badly. Greece would be nice...sigh.
And I just wanted to add this: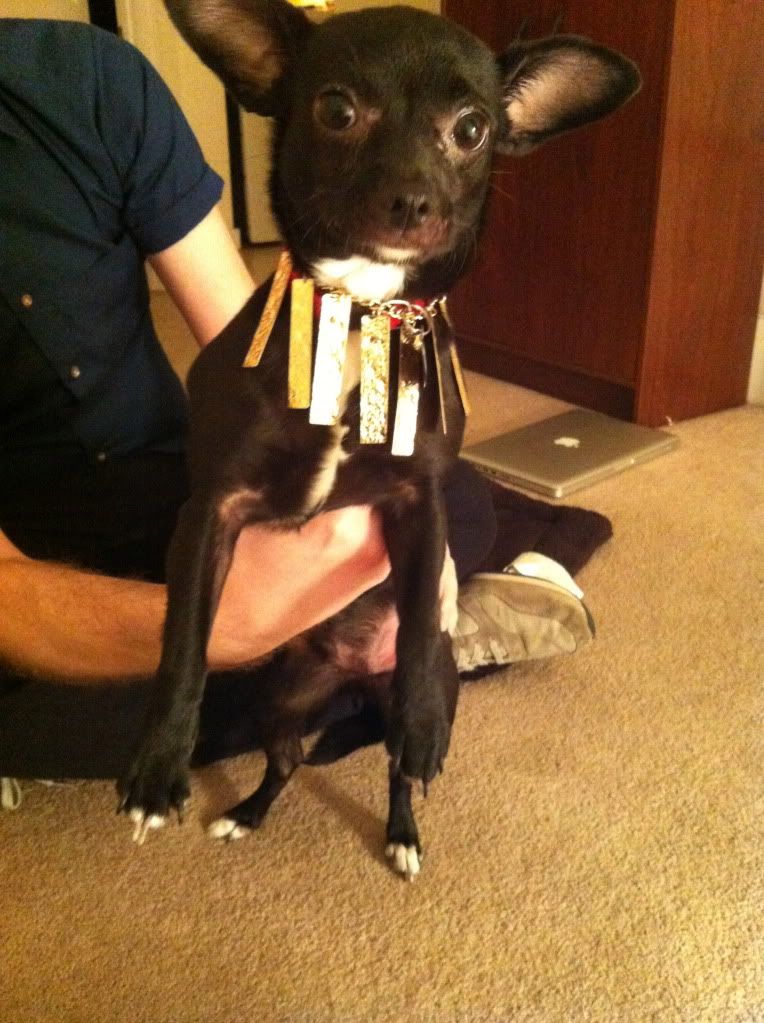 This is my dog, Lola. She likes to get fancy like her mom. Unfortunately for her, it looks better on me. Phat chance, Loles.