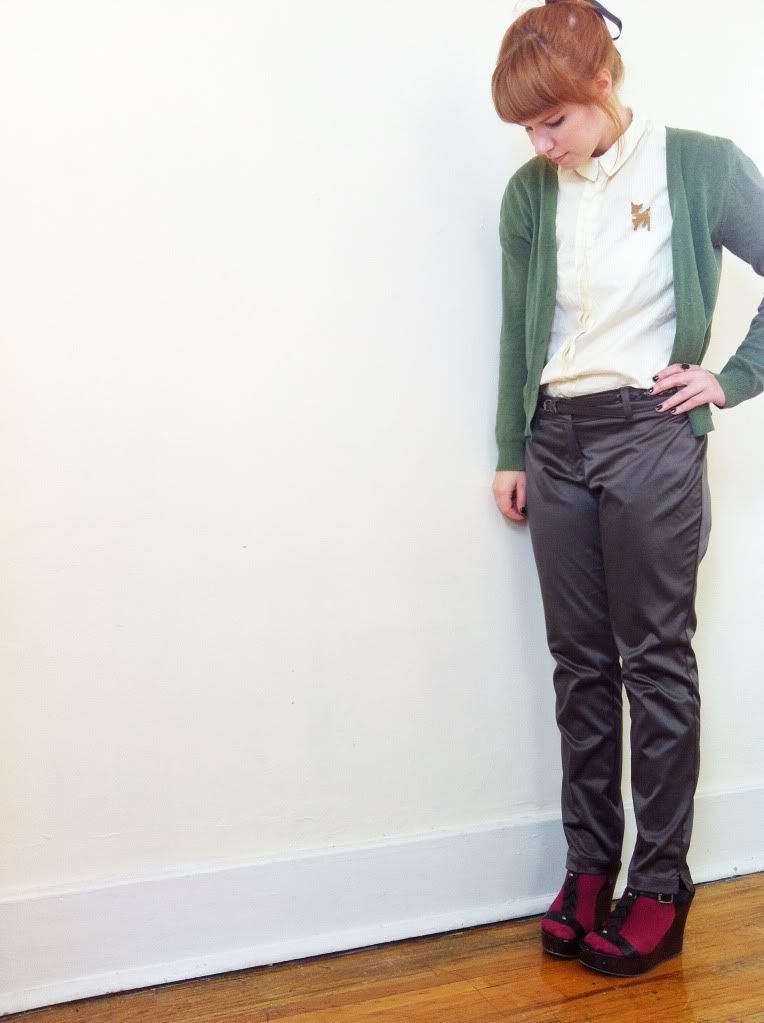 Shirt: Thrifted
Sweater: "Borrowed" from mom years ago
Pants: New York & Co.
Shoes: Target
Pin: Christmas gift from Lydia
I did it! I wore the big daddy (long leg?) shoes to school! Whoo! It might have been the fact that I was wearing pants versus a mini, or the fact that I felt like such a wuss for, well, wussing out
the other day
, but either way- I owned them. And I didn't trip! Not once. Here's the part where we pretend I accomplished something legitimate.
I did get a few looks; I'm 5'8"
without
the shoes...but, once again, I'm used to it.
This shirt is one of the
many
items the thrift gods blessed me with at The Wardrobe last week (I can't wait to share them!). I swear, it was a free-for-all in there. Unfortunately, I tried it on for the first time just before these photos, and discovered that it's pretty gigantic on me. Nothing a little tucking in and sleeve rolling can't fix! And isn't the collar perfect? There's not much more I could ask for from a collar.
This pin is now one of my most prized possessions; a) who doesn't love Bambi? (I'm pretty sure hunters are not part of my current blog demographic) and b) it's from my BFF. Where's the bad? NOWHERE.
I'm planning on another "Things I Learned When I Looked Up From Facebook" for tomorrow, but is there anything you would like to see on here? I'm brainstorming some content ideas, but I'd love any input you have!
How's your week going thus far?